Yuna Sengoku
Kanji

仙石 優奈

Characteristics

Birthday

Unknown

Age

Unknown

Gender

Female

Hair Color

Unknown

Eye Color

Unknown

Height

Unknown

Weight

Unknown

Statistics

Status

Deceased (Chapter 185)

Class

Unknown

Clubs

Unknown

Zodiac

Unknown

Family

Akira Sengoku (Son)
Frey Sengoku (Adopt daughter)
Masayoshi Sengoku (Husband, Deceased)

Personal Status

Likes

Unknown

Dislikes

Unknown

Debuts

First Appearance

Manga: Chapter 87, heard at Chapter 1
Yuna Sengoku (仙石 優奈, Sengoku Yuna) is the single mother of Akira Sengoku.
Appearance
She has halflong hair and has been seen wearing a cooking apron.
Personality
History
Chronology
Wonderful World arc
Yuna is first mentioned by Rion Akagami, when she mentions Yuna asked her to watch over Akira, causing him to become upset and shout "that old hag!"
Obelisk arc
Yuna was mentioned in a old story, told by Akira. Young Rion ran away from home. The entire neighborhood and the police were searching for her. She told young Akira to help them find her. Akira didn't want to, he wanna watched Gundam on tv. Yuna hit him on the head to make him find his friend. The next day young Akira and Rion came back from their adverture.
Lost Experiment arc
Yuna reappeared in Akira's dream when he felt ill. She was making dinner when young Akira came home. Young Rion told her about Akira's test score and Akira got mad about it. Yuna indirectly asked Akira to marry Rion and felt very relieved if he did.
Present arc
Yuna heard from her colleague that her sons flight had gone missing while returnign from their fieldtrip to Guam. Later on, Yuna was seen in Guam along with the relatives of the others who had desperately been waiting for any information.
Four months after the incident, Yuna regulately visited her son's school and spent most of her time sitting in her Akira's old chair. One evening on her way to home, she almost got hit by Yoshimi Isurugi's car, who invited her the to his mansion next day. He told her about the Miina and offered her a job in the Eden-project as someone who would guarantee that the project would be finished as he was likely to die soon.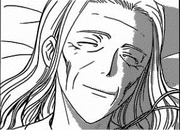 Abilities
Quotes
Trivia