Tomo Sugiyama
Kanji

杉山 トモ

Characteristics

Birthday

Unknown

Age

14-15 Years Old

Gender

Female

Hair Color

Black

Eye Color

Black

Height

Unknown

Weight

Unknown

Statistics

Status

Deceased

Class

3rd Year, Class ??

Clubs

Unknown

Zodiac

Unknown

Family

Unknown

Personal Status

Likes

Unknown

Dislikes

Unknown

Debuts

First Appearance

Manga: Chapter 8
Tomo Sugiyama
(杉山 トモ,
Sugiyama Tomo
) used to be a member of
Kouhei's Group
.
Appearance
She wears the normal school uniform for females and wears her long black hair in a ponytail.
Personality
Chronology
Wonderful World arc
After the crash landing she and some of her fellow students followed Kouhei Arita into the jungle. Tomo remained in the background as the group were seen later talking about their Plane they had seen burning earlier.
Epidemic arc
Tomo was seen in the background as the girls were angry at Kouhei's Group Boy, Ueno and Miyajima, who had been caught eating foods while neglecting doing their work. However, Kouhei came out of the jungle to their aid and asked the girls to forgive the boys, which they complied.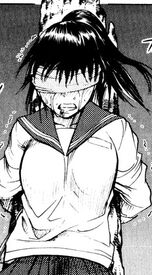 Near a river they found "I saw everything" message on the ground, but nobody knew the meaning behind it. They kept on encountered the same message for two more days after the first one.
Brain Loss arc
When Yuki Sakuma told Akira's Group about murders in Kouhei's Group, she was seen still alive in Yuki's flashback about their group
Animal Battle arc
Her image was briefly seen when Shirou Mariya mentions the people who have died on the island already.
Abilities
Quotes
Trivia