Hirabayashi
Kanji

平林

Characteristics

Birthday

Unknown

Age

14-15 Years Old

Gender

Female

Hair Color

Black

Eye Color

Black

Height

Unknown

Weight

Unknown

Statistics

Status

Deceased

Class

3rd Year, Class ??

Clubs

Unknown

Zodiac

Unknown

Family

Unknown

Personal Status

Likes

Unknown

Dislikes

Unknown

Debuts

First Appearance

Manga: Chapter 8
Hirabayashi (平林, Hirabayashi) was a girl in Kouhei's Group and attended the same school as him.
Appearance
Hirabayashi wore the standard uniform of her school and had short, dark hair.
History
Chronology
Wonderful World arc
After the exodus she and fellow students follow Kouhei Arita into the jungle. Hirabayashi remained in the background as Kouhei made a Bola and caught an Alectroenas Nitidissima from a tree. The boys and girls were amazed by his skill. After eating the food from the plane the group talked about the burning Plane. The group found Kouhei is the most reliable guy and even better than the teachers. Kouhei left the group to take a leak.
Epidemic arc
The girls were angry at Arita's Group Boy, Ueno and Miyajima. The boys were caught eating foods without doing any work. Kouhei came out of the jungle and asked the girls for forgiveness. The girls gave in Kouhei's request. They gathered more fruits at Kouhei's found trees.
Near a river they found written words on the ground. Hirabayashi was seen talking to Arita's Group Girl after the "I saw everything" message first appeared. Nobody knew anything about it.
Lost Brain arc
She was mentioned when Yuki Sakuma told to Akira's Group about her and others' deaths. Yuki told them that Hirabayashi was stabbed to death.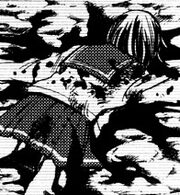 Abilities
Quotes
Trivia