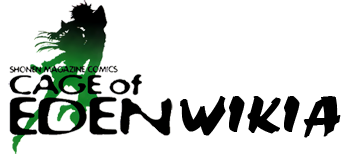 Welcome to the Eden no Ori Wiki
Welcome to the Eden no Ori (Cage of Eden) Wiki, a wiki dedicated to everything about the Manga and, possibly in the future, an anime adaptation of it, that anyone can help contribute towards completing. We are aiming to create a wikia containing extensive information on all encountered aspects of Eden no Ori! The manga was created by Yamada Yoshinobu and began serialization in the Weekly Shōnen Magazine starting in December 2008 and is a popular thrilling survival manga. This wiki contains spoilers about the manga.
Navigation
New pages • Ground Rules • Categories •

Wiki Activity

• The Island • Eden no Ori (Manga)
Eden no Ori Synopsis
Sengoku Akira and his classmates are travelling on a plane when it crashes onto an island inhabited by species thought to have been long extinct. The situation becomes increasingly desperate as some of Akira's classmates are eaten alive, while some kill others in desperation. Now Akira and his group of other survivors must find a way to get off the island while surviving what appears to be a terrible nightmare.
Featured Article

Yuki Sakuma(佐久間 雪, Sakuma Yuki) is one of the members of Akira's Group and is the class president of 3rd Year, Class 4. She's a rather smart girl and is the only female survivor that was part of Kouhei's Group besides Kouhei Arita himself.

Yuki followed Kouhei's Group in the beginning after the incident. Her group led her into the Limestone Cavern. Kouhei started to kill her fellow members. Luckly she escaped and ran into Akira's Group. Since then she joined Akira's Group and traveled throughout The Island.

At the beginning she was affected toward Kouhei and followed him blindly. After Akira Sengoku saved her from the murderer, her heart points toward Akira. Even though she used to give Akira a hard time at school, she still wants him. However Rion Akagami is right now on Akira's heart and so are many other girls in the group.

Her current location: Yuki is apart of Akira's Death Tower Party who is investigating the last building on The Island. She owns it to Kouhei to save everyone. (more...)
Eden no Ori Resources
Official Sites:
Author's BlogJpn - The author's blog where he talks about general information on Eden no Ori.
Official WebsiteJpn - The official Shōnen Magazine's official site for Eden no Ori.
Questions & Answers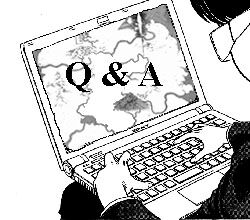 Eden no Ori Wiki News
Coming Soon:
Chapter 185 on Weekly Shōnen Magazine no.08 2013. Last chapter.
Chapter 184 on Weekly Shōnen Magazine no.07 2013
Chapter 183 on Weekly Shōnen Magazine no.06 2013
This Week 52:
Chapter 182 on Weekly Shōnen Magazine no.04+05 2013
Last Week 51:
No new chapter this week.
Japanese Volume 20 is out on 17th of December 2012.
(

Recent Updates...

)
(Archieved...)